Infinitely Variable Speed Mini Road Roller Compactor FYL-S700 Infinitely Variable Speed Mini Road Roller Compactor FYL-S700
Descripción del producto
Infinitely Variable Speed Mini Road Roller Compactor FYL-S700
Mini road roller compactor is a compactor type engineering vehicle used to compact soil, gravel, concrete, or asphalt in the construction of roads and foundations. 
FYL-S700 is 550kg hand pushed road roller adopts hydrostatic drive, infinitely variable speed, both the front and rear wheel have the drive set with strong gradeability and high compacting efficiency.
FYL-S700 550kg hand pushed vibration road roller mainly used for small area compaction, such as new construction and repairs of sidewalks, yards, residential streets, car parks, highways, airport, drive ways, children playgrounds, sports grounds as well as agricultural and forestry road construction. vibratory tandem roller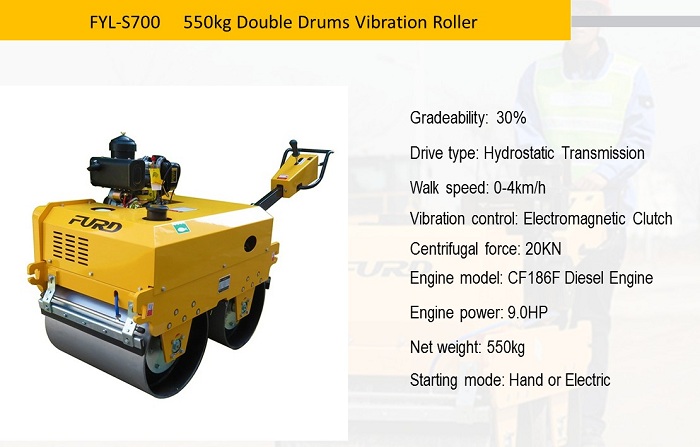 1) Operating radius is small, can work in narrow place, suitable for groove backfill and asphalt compaction;
2) Hydrostatic transmission, infinitely variable speed, double drum drive, gradeability stays the same when oil temperature is higher.
3) Electric start, easy to start.
4) This roller has vibration button, easy to operate.
5) Engine Optional: Honda gasoline engine/ Changfa diesel engine/ Kipor diesel engine.
6) With international famous brand Danfoss hydrostatic drive, walking forward and backward, reversing convenient.
7) Adopts international famous NSK bearing, Mitsuboshi v-belt, ensure the good performance of the machine.
OVERVIEW

Brand

FURD

Model

FYL-S700

OPERATING SPECIFICATIONS

Operating Weight

550 kg

Standard Compaction Width

600 mm

Travel Speed - Maximum

4.0 km/h

Static Linear Load

53 N/cm

Gradeability

30%

ENGINE

Nominal Power

6.0 HP

Engine Model

Changfa CF178F

Engine Type

Air Cooled Diesel Engine

Start

Recoil and Electric

DIMENSIONS

Overall Length

1450 mm

Overall Width

1100 mm

Maximum Machine Height

1200 mm

Drum Width

600 mm

Drum Diameter

425 mm

VIBRATORY SYSTEM

Frequency

70 Hz

Nominal Amplitude - High

0.7 mm

Centrifugal Force Maximum

20 KN

Vibration Control

Automatic or Electromagnetic Clutch

SERVICE REFILL CAPACITIES

Fuel Tank Capacity

5.5 L

Hydraulic Oil Tank Capacity

0.3 L

Water Spray Tank Capacity  

20 L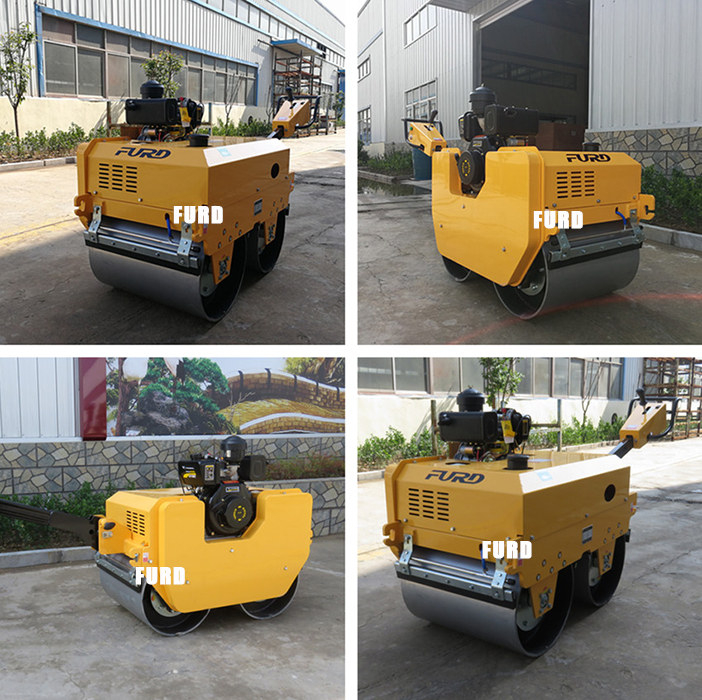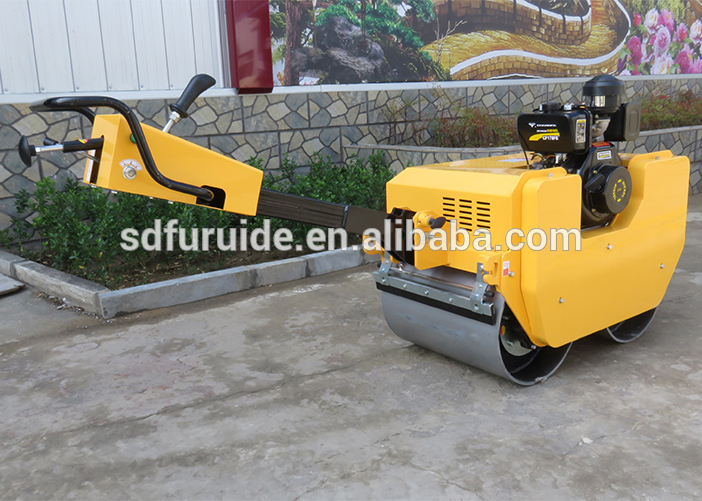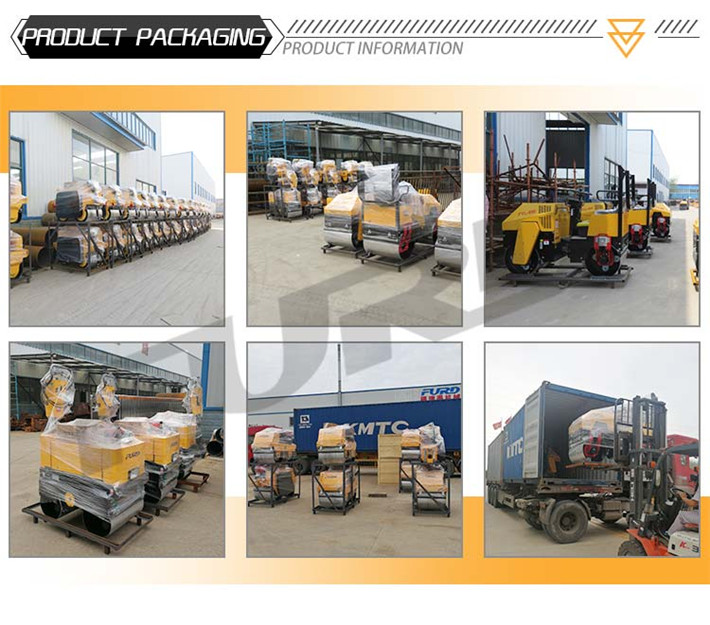 Jining Furuide Machinery Manufacturing Co., Ltd is high-tech enterprise specialized in research & development and manufacture of Vibratory Road Roller since 2006. Our main products are: Road Roller, Concrete Laser Screed, Concrete Truss Screed, Mobile Light Tower, Road Crack Sealing Machine with CE, EPA, ISO 9001 and ISO1400 certification.
We have professional R&D team in design and producing all of light construction machines, with strict quality control system and continued efforts to ensure high quality of our products.
Our products have good quality and competitive prices, have been exported to more than 50 countries of the world, such as Australia, America, Canada, Russia, Brazil, Qatar, UAE and so on. FURD aim to supply first-class products to the domestic market and the global.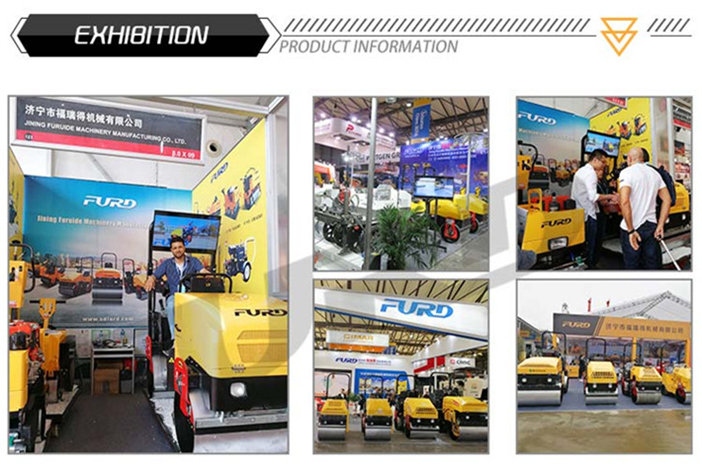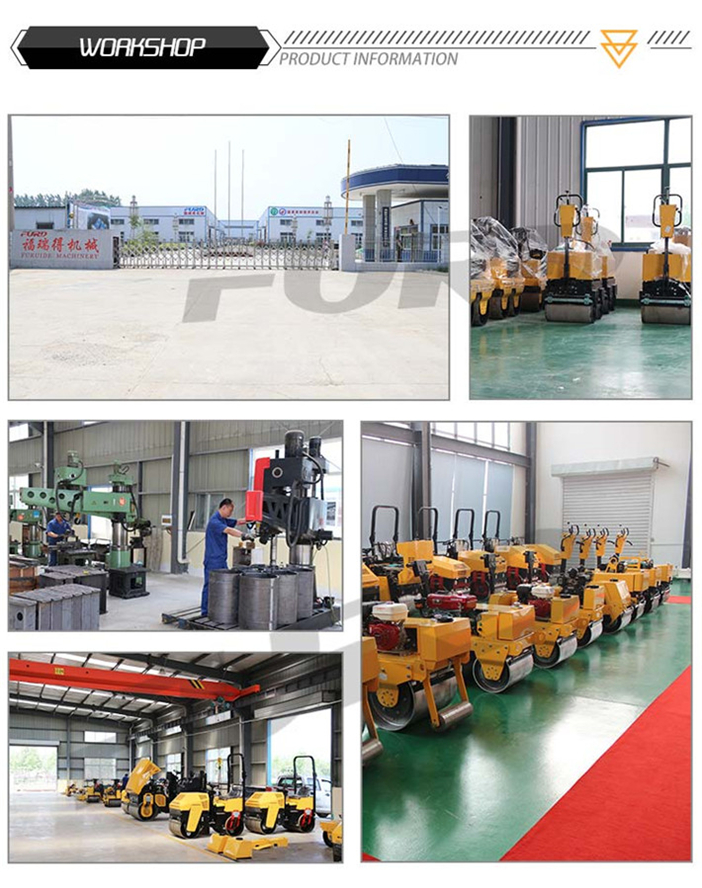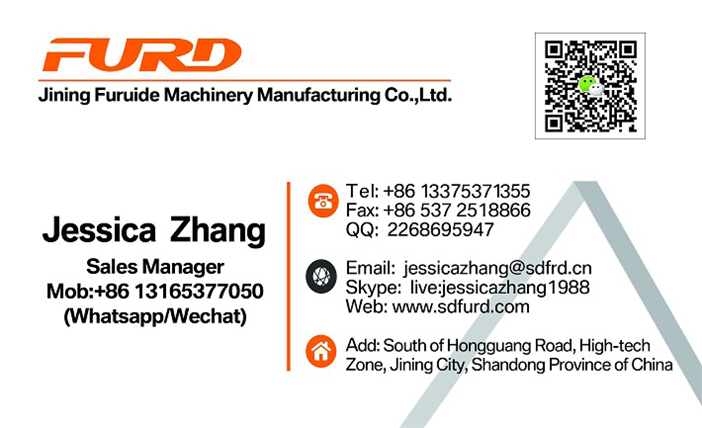 Q1: Are you original manufacture?
A1: Yes, we are a manufacturer in China. 
Q2: Where your products have been exported before?
A2: Our products have been sold to Europe, Southeast Asia, Africa, Latin America, middle East, North America, and so on.
Q3: What about the Minimum Order Quantity?
A3: The MOQ is 1 pcs.
Q4: What about the delivery time?
A4: 7-10 days after receving the balance payment.
Q5: What kind terms of payment can be accepted?
A5: T/T, L/C, Western Union is available.
Q6: What about after-sale service?
A6:12 months warranty for all kinds of products.
Jining Furuide Machinery Manufacturing Co., Ltd.
Jining Furuide Machinery Manufacturing CO., LTD, establecida en 2008, es un fabricante profesional que se dedica a la investigación, el desarrollo, la producción, la venta y el servicio de rodillos compactadores vibratorios, soleras de hormigón, torres de iluminación portátiles, paletas eléctricas, cortadoras de concreto y otras construcciones ligeras. máquinas. Estamos ubicados en la ciudad natal de Confucio y en la ciudad de Mencius Jining de la provincia de Shandong, con un cómodo acceso al transporte. Cubre 40 acres de superficie, más de 20.000 m² de taller de producción. Dedicados al estricto control de calidad y al atento servicio al cliente, nuestros empleados experimentados están siempre disponibles para hablar sobre sus requisitos y garantizar la plena satisfacción del cliente. En los últimos años, nuestra compañía ha introducido una serie de equipos avanzados que incluyen solera láser de concreto y máquina de llenado de grietas. Además, hemos obtenido certificados de CE, ISO 9 0 0 1 y 10 patentes nacionales de rodillos compactadores vibratorios. Se venden bien en todas las ciudades y provincias de China y nuestros productos también se exportan a clientes en países y regiones como Corea del Sur. Estados Unidos, Europa, Sudeste Asiático, África y Sudamérica. También damos la bienvenida a pedidos de OEM y ODM. Si selecciona un producto actual de nuestro catálogo o busca asistencia de ingeniería para su aplicación, puede hablar con nuestro centro de servicio al cliente sobre sus requisitos de abastecimiento. Esperamos establecer relaciones comerciales exitosas con nuevos clientes en todo el mundo en un futuro próximo.
Nombre de empresa: Jining Furuide Machinery Manufacturing Co., Ltd.
Representante: Daoguo Liu
Producto / Servicio: Rodillo vibratorio , Torre de luz , Solera laser , Máquina de sellado de grietas de asfalto , Cortador de carreteras , Paleta eléctrica
Capital (Million US $): 26000000RMB
Año de fundación: 2008
Facturación Annual: US$1 Million - US$2.5 Million
Porcentaje de exportación: 21% - 30%
Volumen Total de Compras anual (Millones de dólares EE.UU.): Below US$1 Million
Número de Líneas de Producción: 10
Número de empleados para investigación y desarrollo: 11 -20 People
Número de empleados para control de calidad: 5 -10 People
Servicio del OEM proporcionado: yes
Tamaño de la fábrica (metros cuadrados): 5,000-10,000 square meters
Ubicación de la fábrica: South of Hongguang Road, High-tech Zone, Jining City, Shandong Province of China
Persona de Contacto: Mr. Tyler Li
Número de Teléfono: 86-537-2269799